Psychiatrist.
Cancer Survivor.
Writer. Teacher.
Musician.
Wife. Cat Mama.
Mad Rapper.
---
Hi there. My name is Elana and I'm a psychiatrist based out of Los Angeles, California. I love to write, read, and make music. I write the occasional mad rap. Here are a few of the things I believe in:
Discovering joy and happiness in everyday life, even amidst chaos and stress
Synthesizing Eastern perspectives on mindfulness and spirituality into the Western view of the mind and brain
Integrating traditional psychiatric treatments with complementary approaches
The resilience of the human spirit and the power of love
I received my B.A. in psychology at Harvard University before studying medicine at the Keck School of Medicine of the University of Southern California, where I was a member of the Alpha Omega Alpha Honor Society. I completed my psychiatry residency training at the University of California, Los Angeles, where I was nominated as a UCLA Exceptional Physician and served as the first chief resident of the Resident Psychotherapy Program.
In December of 2013 I was diagnosed with Stage IV Acute Lymphoblastic Lymphoma, and I survived. I wrote about my experience with cancer and path to healing as it was happening, as honestly when it was hopeful as when it was sad.
My writing has been featured on the Huffington Post, Forbes, KevinMD, Reimagine, Healthy Women and on the website of the Academy of Integrative and Holistic Medicine. The article I wrote shortly after my cancer diagnosis reached millions of people and was translated into French, German, Italian and Japanese. I have spoken at UCLA's Psychiatry Grand Rounds on the power of love and hope in the field of psychiatry. My blog has a modest but dedicated email subscriber base of over 11,000 people (you can subscribe here). My free online guide about dealing with a cancer diagnosis (available free to all subscribers), Holy Shit, You Have Cancer (A Quick Start Guide), has been downloaded thousands of times.
I currently have an integrative psychiatry private practice based out of Los Angeles, California where I use both traditional medicinal and holistic non-medicinal approaches to help people overcome anxiety, depression, trauma, and PTSD to live happier and more fulfilling lives.
Living an authentic life requires both reflection and action. It necessitates both examination and experimentation. I appreciate you joining me here and I look forward to helping (or at least entertaining) you along your journey.
---
---
My Journey
---
2004 – 2006
I graduate from Harvard in 2004 with an undergraduate degree in Psychology and language citation in Spanish, and then take 2 years off to travel & study in Mérida, Mexico and do clinical research in psychiatry at Stanford before starting medical school.
---
2006 – 2010
I study medicine at the Keck School of Medicine at the University of Southern California. I go into medical school thinking I want to be a surgeon, but realize by the end that psychiatry is my real passion.
2010 – 2013
I start residency in psychiatry at the University of California, Los Angeles. I begin to explore and study integrative medicine, and in late 2013 I'm only six months away from graduating residency and starting my own private practice. I can't wait to incorporate what I'm learning about holistic healing into my work, and I feel like I'm coming into the most exciting time in my life.
---
Dec 2013
On December 17, 2013, I go to the ER for what I thought were minor symptoms — but it turns out I have Stage IV Acute Lymphoblastic Lymphoma. I could die within weeks without treatment. Treatment is 3 years of chemotherapy.
---
---
2014
I start the intensive phase of chemo right after my diagnosis, and I handle it pretty well at first. As the year drags on, though, my ability to mentally cope with the stress and physical illness becomes overwhelmed by the trauma of my treatment.
---
2015
I finish my year of intensive chemotherapy and start the next phase: two years of maintenance chemo. Little by little, I start to feel physically better. Underneath, though, I'm still struggling with painful memories and reminders, and fear of what my future holds.
---
2016
Despite my internal turmoil , and despite still being on maintenance chemo, I decide I need to get back out in the world again. I join Bumble and start to date, and within a few months I meet my future husband, Daniel. In September 2016, I have my final dose of chemotherapy.
---
2017
Treatment is finally over, and I return to residency to finish my last few requirements to graduate. I finally get to start my integrative private practice and practice the kind of medicine I have always longed to practice. I love it.
---
---
2018 – 2019
I continue working and teaching, and my private practice is nearly full. I start to appreciate that PTSD is still having an effect on my life, though, and I undergo a 6 month course of Prolonged Exposure therapy, where I face my fears so I can put cancer behind me and move forward. Life is good—really, really good.
---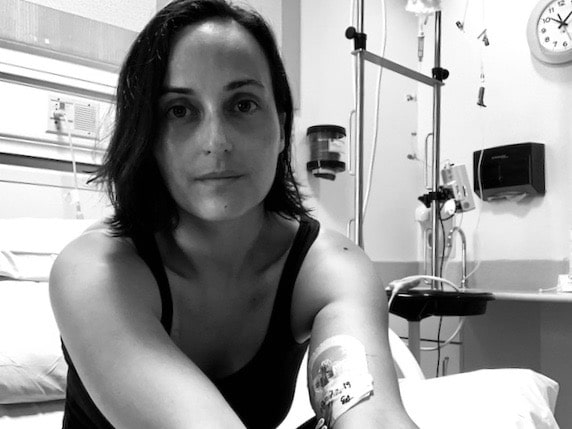 Aug 2019
Five and a half years after my initial diagnosis, my cancer unexpectedly relapses. The prognosis is not as good this time, and I will need a stem cell transplant. I feel horrible and hopeless—my worst fear has actually happened.
---
Aug – Oct 2019
Prognosis for my type of lymphoma after relapse is poor. I start chemo, afraid it won't work—but it does. I fear I won't find a matched stem cell donor (because I'm adopted)—but I do. I'm afraid the transplant won't work—but it does..
---
Oct 2019 – Present
I'm recovering from my stem cell transplant, and in remission. So far so good. Life continues…