Coping With Cancer
Online Resources
(p.s. — I've done it twice)
---
"Holy sh*t, I have cancer…"
This photo of me was taken on December 15, 2013—two days before I found out I had cancer.
When I look at it I see a happy young woman who thought she was coming into the best years of her life.
At 31, I was at the tail end of years of grueling training to become a physician. I had graduated from Harvard, finished medical school at the top of my class, and made it through three and a half years of psychiatry training at UCLA. I had grown from being frustrated with the limitations of the Western medical system to discovering great joy and fulfillment in integrating Eastern philosophy and complementary approaches into my work. I was months away from graduating residency and starting my own practice.
I remember this photo because the camera had caught me off-guard. The photographer, a friend of mine, was helping take a few photos for my website and was snapping tests shots and adjusting the lighting before we got started. There was no artifice, no time to pose, no pretense— just a slight glance toward the lens as the flash pulled me away from my thoughts.
Throughout the day I had this dry cough.
It had been lingering for weeks, and when I stretched my arms back, I felt tight pressure, as if my chest were in a vice. Every once in a while I would put my hand over my sternum and say, "Something is wrong with my lungs, something is wrong with my lungs….
Two days later, the cough rapidly evolved into something much worse. That evening I abruptly left a post-work happy hour with my co-residents without saying goodbye. It was dark, and I walked next-door to the UCLA Emergency Room, where they took a very different kind of photo. It was a chest X-ray, and it showed a suspicious shadow. Then they took a CT scan, which revealed a massive tumor taking up most of my chest, compressing my lungs and major blood vessels and encasing my heart.
I knew even before the CT scan that I had lymphoma, because I learned in medical school that's what young, healthy women with chest masses have. But over the next few days they told me that not only did I have lymphoma, but:
I had a very rare kind, Acute Lymphoblastic T-Cell Lymphoma. They told me it had spread to lymph nodes in my neck, armpit, upper chest, and abdomen and had infiltrated the lining of my lungs, making it Stage IV.
I would need 3 years of chemotherapy.
The chemo would inevitably make me infertile, but there was no time to freeze my eggs.
Without treatment, I could die within weeks.
They admitted me to the hospital, and in one particularly low moment I was in the bathtub of my hospital room—showers are not allowed on the oncology floor because of the risk of contracting an infection from the steam—when the plastic bag wrapped around my IV line started leaking water. I was weak, and tangled up in the IV pole, and couldn't fix it. Completely dejected, I hit the call button for the nurse.
She came immediately, and I looked up at her—naked, vulnerable, and on the verge of crying—but I noticed she did not look at me the way I saw myself.
She did not look at me as if I had been broken. She looked at me as if I were still whole.
But what I didn't know at the time was how bad things were going to get, and over the next three years I endured one of the most toxic chemotherapy regimens that exists. Sometimes I would be asked how many "rounds" of chemo I had. Oh, if only! There were no rounds—only constant, unremitting injections of a dozen different poisons given up to five days a week.
At my worst I would wake up paralyzed with pain, grasping for the bottle of OxyContin by my bedside before dragging myself to the kitchen and flinging myself on my mother and sobbing that I was sure the pain would kill me.
I would engage in an elaborate ritual of numbing mouthwashes and ointments to get just minutes of relief from the excruciating mouth sores caused by the drugs wasting away the surface of my gums.
I would sleep well into the afternoon and then wake up groggy, spending the few remaining hours of daylight in a fog and consuming mindless TV with a ferociousness that comes only when you are terrified to have even one moment alone with your thoughts.
I cannot tell you I believe everything happens for a reason (a platitude, in my opinion, too easily offered to those struck inexplicably and unfairly by life's cruelties)—but I believe we can find meaning in the things that happen.
So in the middle of the nightmare I clutched desperately onto one hope; the hope that at the end there would be some goodness that made the whole mess worthwhile—a light only this path could have carried me to.
I did eventually finish treatment, and over the following few years recovered physically and emotional, putting the pieces of my life back together one at a time, block by block. I graduated residency and started my private practice. I met the man who would become my husband, and got married. I felt like I had finally arrived at the place I wasn't even sure existed—a normal post-cancer life.
But my cancer story, unfortunately, was not over yet.
In August 2019, my lymphoma relapsed. This time, I believed I would die. I restarted chemotherapy, and waited anxiously to see if it would work — and it did. I waited to see if I would have a match on the bone marrow registry (since I'm adopted and don't have any full biological siblings) — and I did. I waited to see if the stem cell transplant worked — and it did.
My stem cell transplant happened in October 2019, and I am still here.
And I will cherish every day that I have. For every day I have left, I will do what I love — to teach, to heal my patients, and to share wisdom with the world
There is much more I could say, but I will leave you with this: The human spirit is resilient.
Open to the possibility that the happiest moments of your life are not in your past, but in your future.
---
---
Does my story sound like you, or like someone you know?
Trust me when I say that I understand what you are experiencing right now, and I know how you feel. There's no way to sugar-coat the fact that his disease SUCKS. But, I promise you the worst things in the world can happen to you, and you can still bounce back. It might not happen overnight, but it will happen.
I spent a lot of time doing my own research as a cancer patient, desperately seeking some sort of one-stop-shop guidance — real guidance — on how to manage what was happening to me physically, mentally, and emotionally.
Below are my favorite resources, both the ones I found and the ones I made, including my cancer quick-start guide, my cancer rap, and all blog articles I've written about my cancer story and tools I've learned to survive the experience.
My hope is that this page and these resources serve as a solace for whichever step of your journey you are on.
---
Cancer Quick-Start Guide
Holy Shit, You've Got Cancer
I know a thing or two because I've been there a time… well, actually two. I wrote a free guide about dealing with cancer.
Join my email newsletter and you'll get immediate access to the new guide, along with my toolkit of free resources for coping with anxiety and stress.
---
Read These!
Reader's Favorites
---
Learn my "energy points" system for rebuilding your energy after cancer treatment
My Huffington Post article with 44 ideas of how friends & family can support someone they know going through cancer treatment (for those dealing with cancer — consider sending this to the people in your life!)
---
"I am not afraid of storms, for I am learning how to sail my ship."
— Louisa May Alcott
---
Cancer Sucks—
Rap videos help (trust me).
---
My Favorite
Cancer Resources
Check out my resource guide below, which includes links to other reputable cancer-related sites and resources, as well as a few of the products that were a significant help to me during my cancer treatment and recovery.
People
Health-Related Products & Supplements
*These supplements are ones that worked for me, based on my personal experience. Please do not take these recommendations as medical advice, and talk to your doctor before starting a new supplement regimen.
*P.s. — I'm in an ongoing process of adding resources here, so if have an idea of something good to add, please let me know.
---
New Course
Coping With Cancer
As a 2X cancer survivor myself, I know the difficulties cancer survivors face as they go through treatment, and—perhaps even more challenging—try to put the pieces of their life back together after treatment is done.
This program is for those who need help and support anywhere along their cancer journey, from the initial diagnosis, through the treatment process, and through the process of recovering physically and emotionally after.
---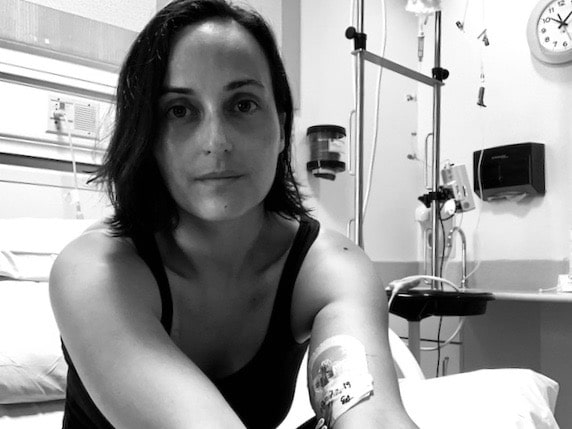 Join the Waitlist
This program is currently closed for new enrollment. Sign up below to join the waitlist and be the first to know when it opens!
---
---
From December 2013—when I was first diagnosed with lymphoma —up until now, I have written about my experience with cancer as it happened, without knowing how it would unfold.
Here are all of the essays I wrote throughout my journey, starting at the beginning. Get a cup of tea, get comfortable, and click the link below. What started as a love story ended as one too.
---
Cancer-Related Articles
---
Last week I was walking from my oncologist's office to my car when I heard a voice calling out. "Hey! Hey you! Hey there!" I didn't think he was talking…
---